I want to share a few things with you that I learned as a project manager in the Government of Canada.
My previous job, working in development/procurement for the Canadian Special Forces, taught me that there are 3 things you need to address when purchasing something in the government: requirement, money, and contracting. Imagine that a Geo Tech Sergeant needs to support a natural disaster relief effort, similar to that of the recent Fort McMurray wildfires. Now, with that in mind, let's run through the conditions that need to be met in order to justify an important purchase of satellite imagery:
1. REQUIREMENT
A good idea is not enough, you need to have a requirement. For example, you might need up-to-date imagery of the fires so that you can prepare a product that Planners/Commander can use to make an informed decision.
Does the project require imagery to be less than 90 days old? Less than 1 year old? 2 days old? In the case of a natural disaster, like the Fort McMurray fire, up-to-date imagery is a must and could involve "tasking" the satellite to get suitable imagery.
Resolution is another part of the requirement to consider. I generally recommend a minimum of 50 cm, since it's the lowest resolution that one should use for urban areas. It might be necessary that the Geo Tech acquire a higher resolution of satellite imagery – say 40 cm or even 30 cm.
Finally, since satellite imagery is licensed rather than owned, knowing how the data will be shared and with whom is important for selecting the correct license to meet the project requirement.
2. MONEY
Your office budget doesn't allow for purchasing big ticket items. Operations (or exercises), similar to the wildfires in Fort McMurray, will have a separate Financial (Fin) Code. You need to know who has the authority to spend funds using the Operation's Fin Code. Controllers know, so talk to them about your requirements.
Keep in mind that you need to create a business case when you ask for money.
For example, satellite imagery is far more cost-effective than sending five personnel on the ground when it comes to assessing damaged infrastructure. Also, the price of satellite imagery is a fraction of what it would cost to collect the same information via helicopter.
Don't wait for a natural disaster to become familiar with purchasing imagery. The best way to familiarize yourself with the process of requesting funds is to purchase a small area (i.e. 100 km2) for an upcoming exercise.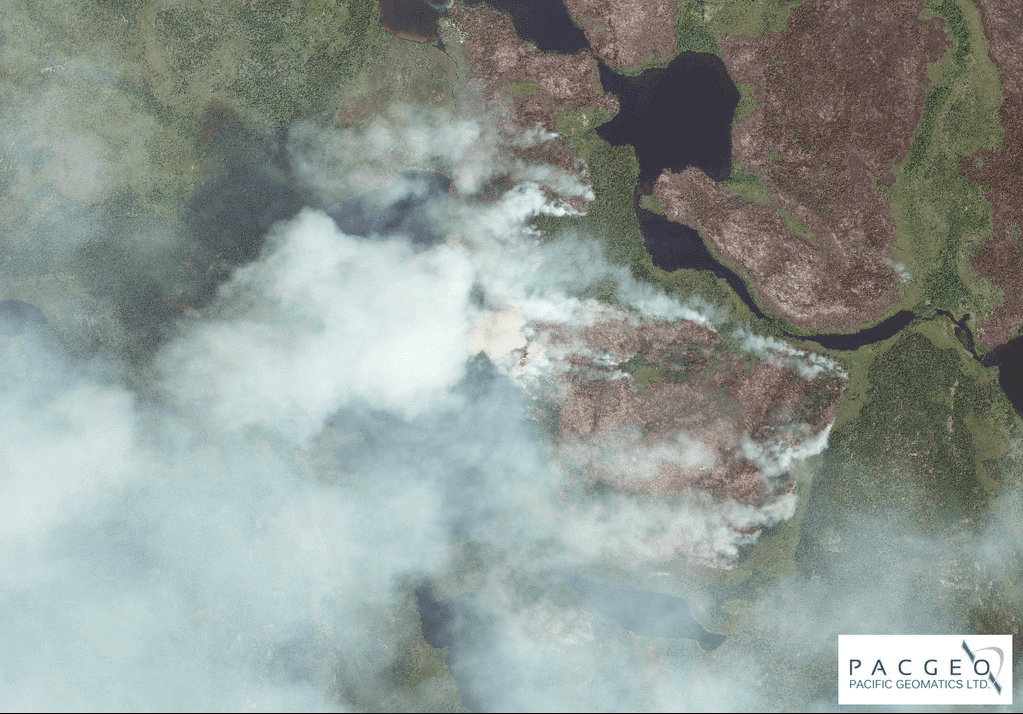 3. CONTRACTING
In my experience, contracting is always the most difficult part of procurement and can cause significant time delays. Although, in an emergency, procurement is always faster to respond and far more flexible.
Local Purchase Order (LPO): Depending on your organization, a LPO can be used of up to $25,000 for goods if 3 separate quotes are obtained. Again, in an emergency, a Sole Source Contract may be the way to go.
National Master Standing Offer (NMSO): Under the Satellite Imagery NMSO, you can purchase $200,000 of satellite imagery from one quote. It is possible to increase the purchase order to $400,000 if you send an e-mail to Public Works & Government Services Canada (PWGSC) and present a business case. Maxar imagery can be purchased by your LPO Section directly from PacGeo, or you could send the financial code to the Satellite Imagery Order Desk (SIOD).
Keep in mind that imagery purchased under the NMSO can be shared throughout the Government of Canada. If you need to share the imagery with other levels of government or Allies, let us know and we can advise you on what uplifts are required that will enable you to do so.
The NMSO is the easy button for satellite imagery! Use it.
TAKEAWAYS
I recommend getting your feet wet by purchasing a small area of satellite imagery for an upcoming exercise to get familiar with the satellite imaging procurement process. This way, you'll be ready for the next disaster strikes, when the time will be of the essence.
Requirement
How current is the imagery that is needed? 1 year, 90 days, new tasking
What resolution is needed? 30 cm, 40 cm, 50 cm
Who do you need to share the imagery with? Only within the Government of Canada, other levels of government, US military, NATO, etc. What license is needed?
Money
Follow the money and find out who can authorize the funding.
Contracting
The NMSO is your easy button to purchase satellite imagery.
If you have any questions about purchasing, please feel free to drop me a line.