WorldView Legion
Maxar's Next-Generation Earth Imaging Satellites: WorldView Legion
Maxar Technologies, a leading provider of Earth imagery and intelligence, is set to revolutionize the satellite imaging industry with its next generation of Earth imaging satellites – WorldView Legion. This constellation of satellites will be comprised of six 30cm resolution satellites designed to provide organizations with highly accurate and up-to-date satellite imagery. The ability of WorldView Legion to revisit a target area up to 15 times per day will provide organizations with near real-time information that is crucial to making informed decisions. And with the capacity to collect an astonishing 5 million square kilometers per day of satellite imagery, organizations will have a comprehensive view of the Earth like never before. Whether it is monitoring crops and wildlife, predicting natural disasters, or tracking the impact of human activities, WorldView Legion will provide organizations with the information they need to move forward with confidence.
Six 30cm class satellites
Sun synchronous and mid inclination orbits
8-band VNIR
Up to 15 revisits per day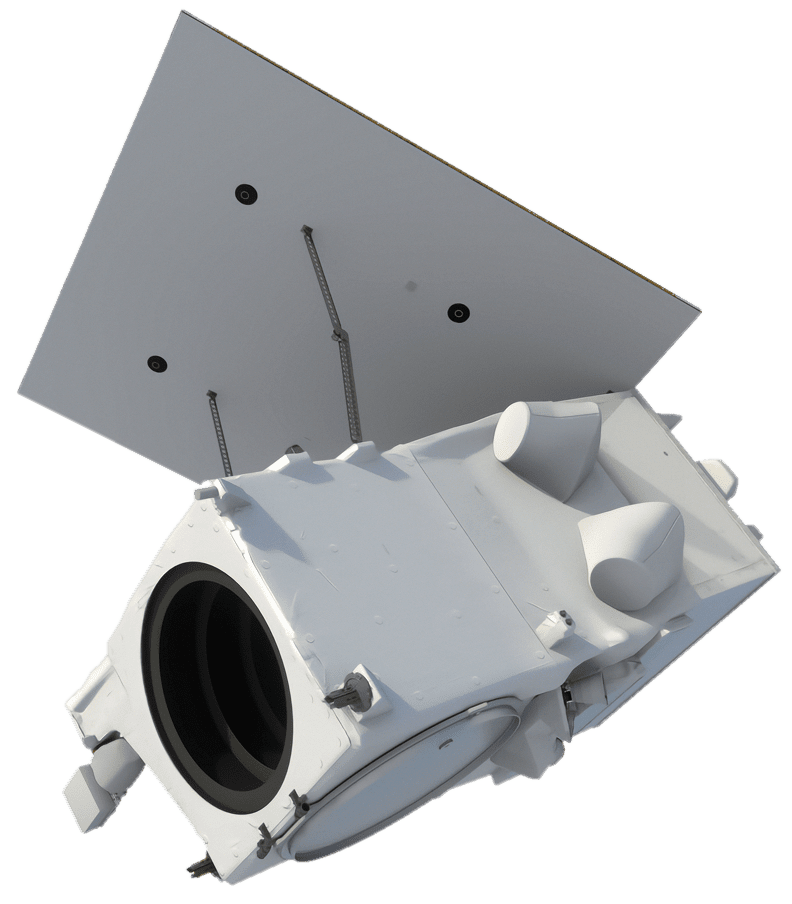 WorldView-3 Specs
Date: September 18, 2007
Launch Vehicle: Delta 7920 (9 strap-ons)
Launch Site: Vandenberg Air Force Base, California
Altitude: 617 km
Type: Sun synchronous, 10:30 am descending node
Period: 97 min
Spacecraft Size, Mass and Power
Size: 5.7 m (18.7 ft) tallx2.5 m (8 ft) across
7.1 m (23 ft) across deployed solar arrays
Mass: 2800 kg (6200 lbs)
Power: 3.1 kW solar array, 100 Ahr battery
Panchromatic: 450–800 nm
8 Multispectral: 397-1039 nm
8 SWIR Bands: 1184-2373 nm
12 CAVIS Bands: 405-2245 nm
Panchromatic nadir: 0.31 m
20 degrees off-nadir: 0.34 m
Multispectral nadir: 1.24 m
20 degrees off-nadir: 1.38 m
SWIR nadir: 3.70 m
20 degrees off-nadir: 4.10 m
CAVIS nadir: 30.00 m
11-bits per pixel pan and MS; 14-bits per pixel SWIR
Attitude Determination & Control
Type: 3-axis Stabilized
Actuators: Control Moment Gyros (CMGs)
Sensors: Star trackers, precision IRU, GPS
Pointing Accuracy & Knowledge
Accuracy: <500 m at image start/stop
Knowledge: Supports geolocation accuracy below
Time to slew 200 km: 12 sec
2199 GB solid state with EDAC
Image & ancillary data: 800 and 1200 mbps X-band
Housekeeping: 4, 16, 32, or 64 kbps real time, 524 kbps stored, X-band
Command: 2 or 64 kbps S-band
Max Contiguous Area Collected in a Single Pass (30° off-nadir)
Mono: 66.5 kmx112 km (5 strips)
Stereo: 26.6 kmx112 km (2 pairs)
Revisit Frequency (at 40°N Latitude)
1 m GSD: <1.0 day
4.5 days at 20 degrees off-nadir or less
Geolocation
Accuracy (CE90)
Predicted <3.5 m CE90 without ground control
Unsure if
WorldView Legion is right for your project?
You shouldn't have to be an expert in high-resolution satellite imagery to find what you need.
Our team is dedicated to making the process easy for you. All you have to do is tell us the problem. We find the answers from a vendor-agnostic perspective and present you with clear, simple solutions.
Tell us the problem
Explain the situation to us on your terms. We'll translate it into the world of Satellite Imagery.
Review Your Options
Be presented with a simple choice of the top 2-3 imagery solutions for your project.
Make confident decisions
Know you have the right data in hand to make the critical decisions that keep your project moving forward.
Other Satellites
MAXAR
GeoEye-1
Ideal for large-scale mapping projects, GeoEye-1 provides highly detailed imagery at .46-meter panchromatic and 1.84-meter multispectral resolutions. It can geolocate features to less than 5m, offers stereoscopic collection on a single pass, and can revisit any point on Earth once every three days.
When we need high-resolution satellite imagery, we trust Pacgeo for their quality imagery and reliable turnaround times. ​
David Bluestone
Vice President of Exploration, Bluestone Resources
Ordering high-res satellite imagery through a partner agency order desk was always painful and fraught with multiple issues. Dealing directly with Pacgeo allows me to bypass the aforementioned issues, while getting quick and reliable access to the data I need.
Government Employee
Government of Canada